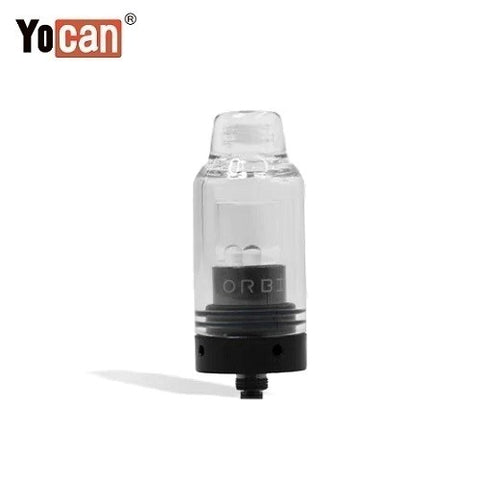 Yocan Orbit Wax Atomizer
This is the atomizer for the Yocan Orbit or Wulf Mods Orbit wax vaporizer. Uniquely designed to make use of terp balls which spread the wax evenly as you vape.
The Yocan Orbit Replacement Atomizer includes everything that comes standard with the original device, making it a must-have for anyone who owns a Yocan Orbit Vaporizer or wants to try dabbing with one of Yocan's brilliant innovations.
Yocan Orbit Atomizer is compatible with the Yocan Orbit Vaporizer Kit. It makes use of a top vertex airflow system and a quartz balls coil. It has a coil-free quartz cup at the helm.
In The Box:
1 Yocan Orbit Atomizer
Features
Airflow: Top Vertex Airflow System
510-threaded Connection
Coil-less Quartz Cup

Spinning Quartz Balls

Glass Mouthpiece

Resistance: 0.4ohm(Quartz Balls Coil)
Glass Mouthpiece-The Yocan Orbit Replacement Atomizer includes a glass mouthpiece as standard. For the uninitiated, glass is one of the most sought-after materials in the vaping industry. 
Spinning Quartz Balls-The little orbs are produced from the same high-quality quartz materials as Yocan's atomizers, so they are as effective as they are durable.
Adjustable Airflow-This parameter can be changed at the atomizer base to limit or release the atomizer's airflow. A slack airflow helps you to inhale effortlessly from your atomizer, but it dilutes the vapor.
Yocan Orbit Atomizer For Sale Near Me

Yocan USA is a major online retailer and wholesaler of Yocan Orbit Atomizer in the United States, Canada. Purchase Yocan Orbit Replacement Atomizer from an online wholesaler shop. Look no further if you're wondering where you can get a decent price on Yocan Orbit Replacement Atomizer. If so, Yocan USA is the best online store to buy bulk Yocan Orbit Atomizer.
---
We Also Recommend
---