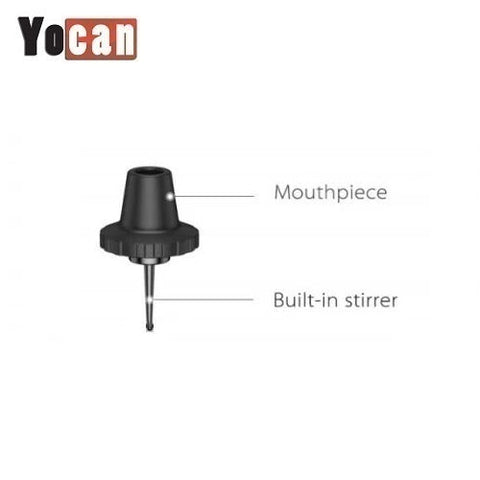 Yocan Hit Replacement Mouthpiece
This is the replacement mouthpiece for the Yocan Hit. The included stir stick helps keep things evenly heated.
In The Box
1 Yocan Hit Replacement Mouthpiece
A Yocan Hit replacement mouthpiece. If it becomes too cluttered, you can get one with a whole new stirrer and airflow.
Yocan USA is a reputable online retailer & wholesaler of Yocan Hit Replacement Mouthpiece with the lowest prices in the United States. Purchase bulk Yocan Hit Replacement Mouthpiece near me from an online wholesale store. If you're wondering where to acquire inexpensive Yocan Hit Replacement Mouthpiece, look no further. If this is the case, there is no need to be concerned. Yocan USA is an excellent online supplier wholesale shop where you can buy bulk Yocan Hit Replacement Mouthpiece.
Excellent outcome!
My yocan hit works as good as new now and I have owned it over 5 years. It's a joy to own!
Sold Out?
Disappointed that this product is sold out. Forced to purchase one of their basic products at retailer that have doubled the price.
Yocan Hit Replacement Mouthpiece
design defect?
the Yocan HIT mouthpieces work well... until they are heated... i use 420F to vaporize my flower and in less than a day, the mouthpieces' plastic has cracked... i believe this is due to the metal magnetic ring in them heating and expanding larger than the allowed space in the plastic... this causes the plastic to crack and eventually break... when this happens, the metal magnetic ring will stay on the battery when you remove the mouthpiece... it took me a few times to realize this... i don't have any ideas on how to fix this defect :(
ordering replacements was a good experience... the order was filled and arrived in a timely manner... i'm happy and satisfied about that but the design defect... well... idk...
Good head
Now that I know how to correctly clean the mouth pieces, they are great
---
We Also Recommend
---