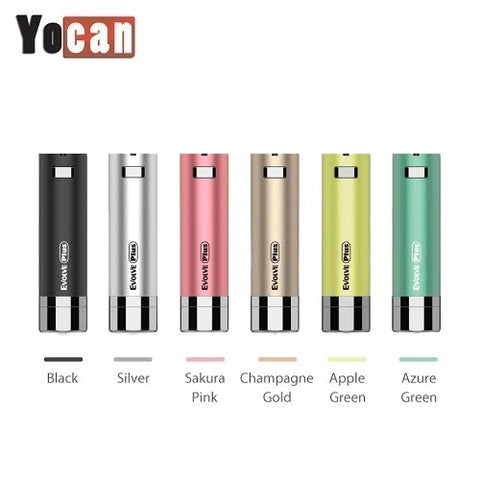 Yocan Evolve Plus Replacement Battery 2020 Version
This is the replacement battery for the Yocan Evolve Plus 2020 Version Wax Pen Kit and the Yocan Evolve D Plus Dry Herb Pen Kit. This DOES NOT include the atomizer.  
Features
Big Capacity
Micro USB Charging
Built In Dab Jar (in base of battery)

Specifications
Battery Capacity:  1100mAh
Battery Voltage:  3.8V (at full charge)
Battery Wattage:  25W (at full charge)
Charging:  Micro USB
Battery Protections:
     Low Voltage - 10 Consecutive Blinks (Needs to recharge)
     Short Circuit - 3 Consecutive Blinks (Usually a bad coil)
     Overtime - 8 Consecutive Blinks (Blinks after 10 seconds of use)

In Box
1 Evolve PLUS Battery with Micro USB Charging

Replacement Coils and Replacement Atomizers are available separately. 
Yocan Evolve Plus Replacement Battery 2020 Version
Works great til it does not!
I loved this battery until the button on it no longer worked. It won't press in or out or anything. When I asked for help Yokan told me since I bought it not on the website I'm out of luck. No help no advice nada!
Great Product, Great Seller
I've been using Yocan products for many years, first from a brick and mortar store, and from Yocan USA for the past six years. The products are fantastic, the service first rate, and shipping fast and reasonably priced. I am still using my original Zeus vape, long discontinued. Replacing the battery and an occasional coil keeps it going strong.
I bought 2
They work but the charging indicator light on the other doesn't light up so you never know if your over charging the device
---
We Also Recommend
---