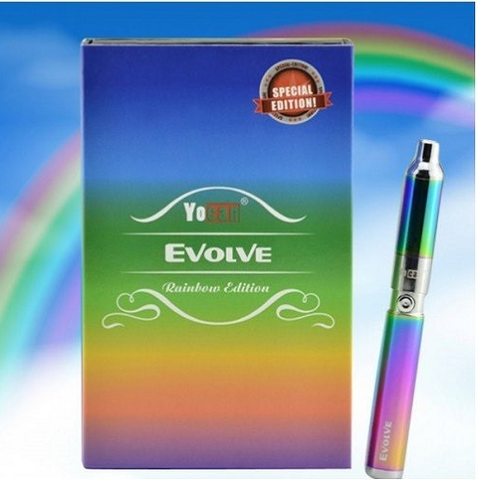 Yocan Evolve Rainbow Edition Wax Pen Kit
The Amazing new Yocan Evolve Pen Features sub ohm dual quartz glass rod coils for powerful, clean puff in a very compact and durable pen. Easy to use, this kit comes with everything you need to start dabbing.

Features:
Dual Coils with Quartz Glass Rods provide clean taste and even heat
Functional Coil Cap prevents mouthpiece from getting hot
10 Seconds of Continuous Heat
Heats Up Instantly

Specifications:
Battery Capacity: 650mah
Atomizer Resistance: 0.8ohms
Max Atomizer Wattage 15W (exceeding will damage coil or shorten lifespan)

In Box:
1 Evolve Atomizer
1 Evolve Battery
2 Quartz Dual Coil Heating Elements (1 pre-installed)
1 Metal Tool
1 USB Charger
Wax Coils and Caps are available.
Yocan USA is a reputable online retailer & wholesaler of Yocan Evolve Wax Pen Kit  Rainbow Edition with the lowest prices in the United States. Purchase bulk Yocan Evolve Rainbow Edition Wax Pen Kit near me from an online wholesale store. If you're wondering where to acquire inexpensive Yocan Evolve Rainbow Edition Wax Pen Kit , look no further. If this is the case, there is no need to be concerned. Yocan USA is an excellent online supplier wholesale shop where you can buy bulk Yocan Evolve  Wax Pen Kit Rainbow Edition.

Best pen
The pen works way better then ones I've been using in the past, easy to use and the customer service is great.
---
We Also Recommend
---