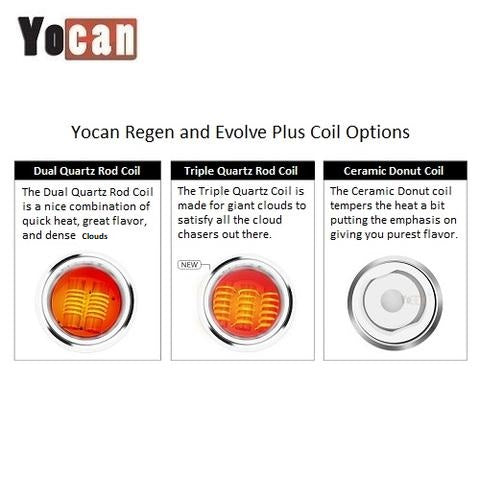 Yocan Evolve PLUS, Regen, Torch 2020 Version, Torch XL Replacement Coils
Replacement Coils for the New 2020 Edition Evolve PLUS and the Original Evolve PLUS and Regen series of pens. The coils are available individually or as a 5-Pack and do not come with coil caps, although you can purchase them separately. 
Dual Quartz Rod - good combination of clean taste and cloud density
Triple Quartz Rod - lung busting density for cloud chasers
Ceramic Donut - gentle heat for the flavor chaser

Please note that the coil does not come with a coil cap.  If you need coil caps, please add them separately.  The coils are available individually or in a 5-Pack. If Coil Cap or Coil Cap 5-Pack option is selected no coils will be sent.
Compatiblity
These coils WILL work for the following devices:

Zeus 
Magneto 

(need this type of coil cap

Evolve Plus XL (mouthpiece will shift around a bit because the coil is smaller)

In The Box
Evolve PLUS Wax Pen Replacement Coil(s) or Coil Cap(s)

NOTE: The Evolve Plus replacement coils will work with the Yocan Magneto, however, you would need to purchase a coil cap for the Evolve Plus coil as well.  
Great product
The coils may not last long but the shipping is super fast.
Yocan Evolve PLUS, Regen, Torch 2020 Version, Torch XL Replacement Coils
---
We Also Recommend
---